Logistics Management Solutions Management Solutions
Improve process & technology in the supply chain with logistics erp software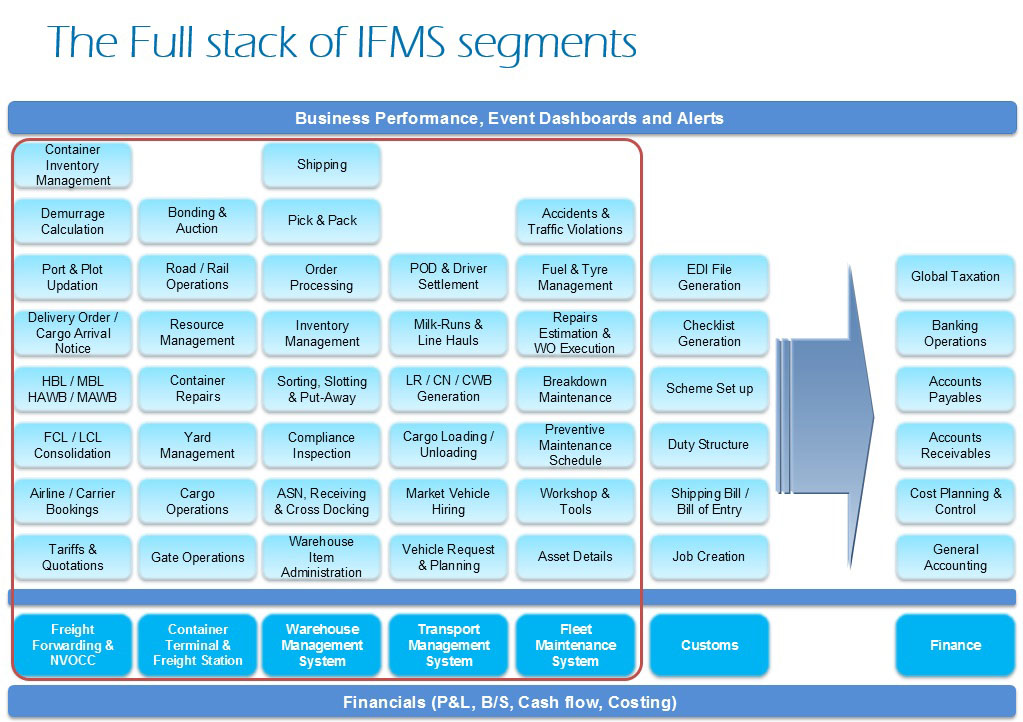 Logistics is an important arena which requires great attention in order to keep the business up and running. Technology has transformed the ways in which the supply chain management and logistics was implemented. With advanced software, complex processes and functions have been simplified enabling organizations to run their business in a smooth manner. Enterprises want to achieve cost-efficiency in the supply chain processes and also in the technology they make use of, to automate the logistics process.

Logistics management solutions provided act as tools that gives organizations access to highly advanced processes enabling them to be more responsive to the ever-changing market environments. Such solutions do not require heavy upfront investment and thus prove to be cost-efficient.

We offer logistics ERP for logistics industry that is an innovative solution which addresses all the complexities involved in the logistics function of an organization. Moreover, it ensures greater customer satisfaction and yields a greater ROI. Our company has several years of experience in providing logistics management solutions which have multiple features that cater to meeting of the shipping requirements, managing of different processes involved in logistics and keep the logistic process on a roll. Moreover, the software is flexible in nature which provides ample scope to businesses to adapt to the changing business environment.
Features:
The software consists of features such as Freight Forwarding, NVOCCs, Group-age Providers & Liner Agents etc.
The transportation Companies and companies involved in Project Cargo, Express Cargo, Courier & Small Parcel benefit from the Logistics ERP software.
The software solution can be easily integrated with equipment applications like barcode readers, weighing machines & IVR.
It caters to the requirements at the Container Terminals , Inland Container Depots, Container Freight Stations.
The software solution provides real-time information to all the parties through automated alerts by e-mail and SMS.
Power management
Leverage your business with our erp solution power management
Features:
We provide Logistics ERP software that help in optimization of fuel supply and reduce the cost of power generation.
Our Logistics ERP system also provides Power Generation Analytics which help in the price-decision making process.
The software is integrated with Plant Optimization Solution that helps to achieve maximum productivity.
Fuel can be managed in the best possible manner and this savings can be accumulated with scarce resources.
Give your business a complete makeover
With our Logistics ERP software, business organizations get a flexible and a scalable solution that meets their requirements in the best possible manner. Ours is cloud-enabled software that along with efficient resource planning gives you the ample advantages of cloud computing technology. It automates the entire resource planning process and streamlines different business processes such as that of Project Management, Financial Management and Human Capital Management etc.
Advantages:
The software solution ensures that businesses are able to improve efficiency in operational activities.
The ERP software helps in tapping revenue generation opportunities.
The software is highly flexible and can be easily adapted to the changing business environment.
Ways can be found for cost-reduction.
Make your assets reliable:
Assets should acts as assets and give you reliable returns. Thus, optimum utilization should be made of the assets and downtime should be reduced as much as possible as it can affect the output to a great extent. The Energy & Utility industry thrives on proper functioning of the assets and while relying upon them it ensures that it gets the desired results.

We offer Logistics management solutions that have an easy user interface, yet are very powerful and can manage the entire lifecycle of the assets from its procurement to its disposal. Functions such as Asset planning & budgeting can be done in a simplified manner with the help of the software.
Advantages:
Real-time information is provided for the location and condition of the assets with easy integration with GIS, DCS, PLC & SCADA.
The ERP software solution easily integrates with your existing IT systems.
The software facilitates easy management of work permits, work order, work log, maintenance and continuously takes care of asset improvement processes.
The logistics ERP software improves maintenance strategy by using the appropriate inputs from Corrective, Preventive, Predictive and Risk-based Maintenance.
Keep a track of the cargo movement throughout the supply chain
Keeping a vigilant track of cargo is highly important businesses cannot afford to lose sight of their shipments even once. The freight logistics industry relies upon smooth cargo movements across multi-modal supply chains. Thus, the progress or the status of the cargo needs to be always known. Our solution meets this requirement of businesses efficiently.
Advantages:
With our logistics management solutions, container and cargo history can be maintained which is based on operational movements, costs and revenue.
Each and every detail pertaining to the cargo movement can be known such as truck arrival, cargo stuffed, truck arrival at port, container shipped on board and customer billed etc.
With the help of the software, every container and their bookings can be monitored at different points in the supply chain.
The container inventory can be optimized on a regular basis and the repositioning of empty containers at locations can also be monitored.
Make your business grow
Let's discuss your project and find out what we can do to provide value.