Boost Brand Awareness, Attract more customers. Create a personalised experience with Dynamics 365 Marketing
Microsoft Dynamics 365 Marketing is a robust marketing platform that automates the marketing process and makes it more efficient. Businesses can nurture leads efficiently and make informed marketing decisions based on marketing analysis and insights with Power BI integration. With various tools & templates, engage customers better and curate campaigns that help achieve the conversion goals. ...

Dynamics 365 Marketing provides enhanced customer experiences and enables businesses to create personalised customer journeys that help in better customer engagement. Organisations can make better decisions, attract high-quality leads, and fill the sales funnel with the best leads. The marketing activities are aimed to engage more and more prospective customers and provide them with an enhanced customer experience. MS Dynamics Marketing Automationhelps to provide a streamlined customer experience by aligning with Dynamics 365 sales, Dynamics 365 Customer Insights, and using Microsoft Teams for better collaboration. All the solutions empower the sales team to perform better and unify to provide a better CX. By using data and AI, they can better understand the customer base and increase sales.

Dynamics marketing consists of two components and comprises event management. The two modules create graphical emails and design intuitive customer journeys that help fill the sales funnel with high-quality leads.

Real-Time Marketing – It involves customer journey creation that comprises event-based customer journeys. SMS helps businesses reach out to customers directly on their mobile phones by sending text messages by generating phone numbers used within the app. Push notifications are received by users who have installed your mobile app. The notifications inform and educate users about the latest offers and promotional messages.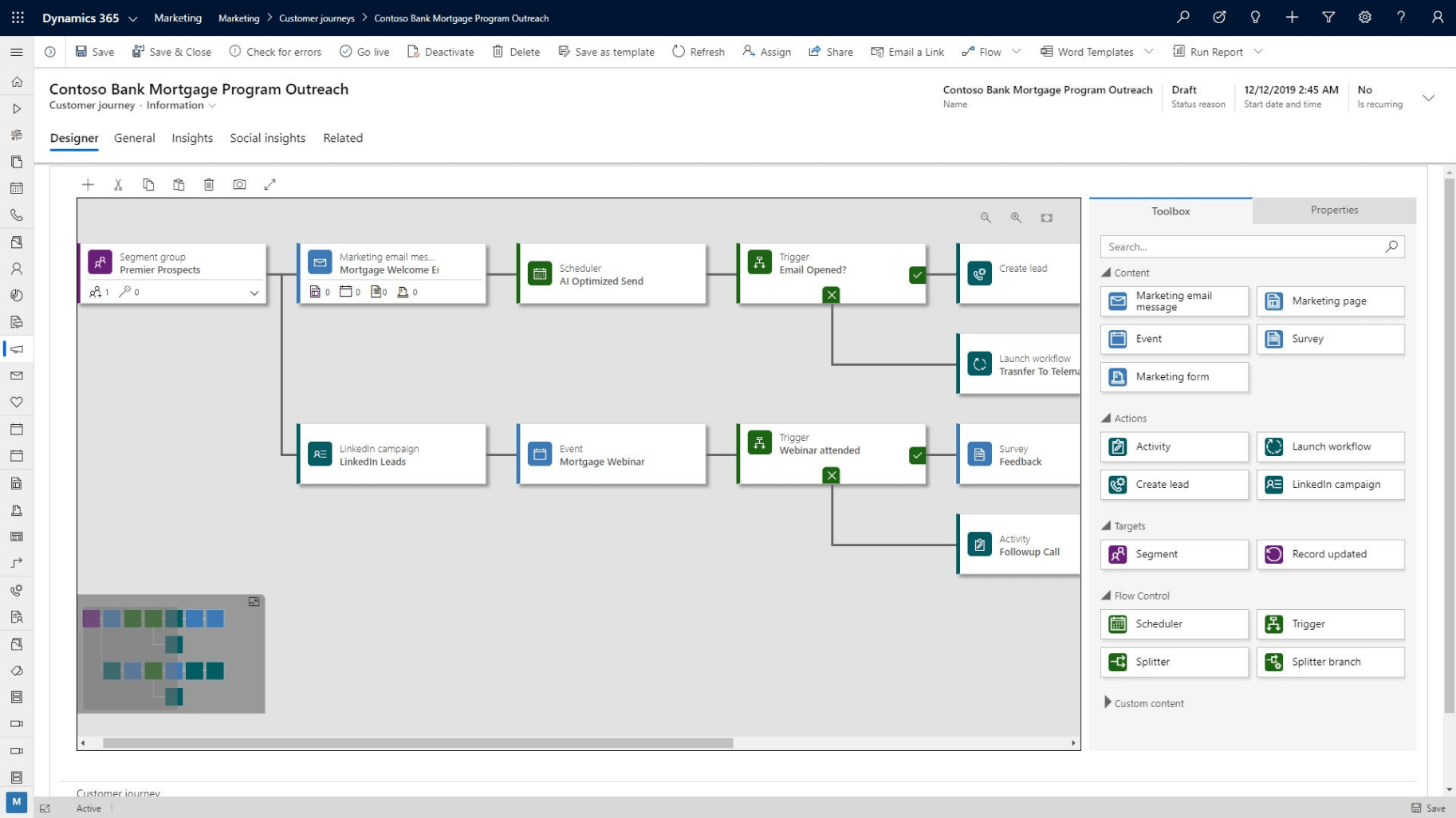 Capabilities:
Microsoft Dynamics 365 Marketing is a solution that automates marketing with various capabilities such as Lead Management, Email Marketing, and creating and publishing landing pages to reach out to customers effectively. Create professional emails and provide personalized communication to attract more customers. Use LinkedIn Integration to reach out to the target audience and boost the lead generation process.
Dynamics 365 Marketing Services:
Rely on Online24x7 to get the Dynamics 365 marketing implementation services and start using the platform to streamline your marketing efforts. Get robust support and upgradation services to ensure the solution continues to deliver the best results. With customization services, meet your unique business requirements and successfully market your goods and services among the target audience.

Implementation
Get cost-effective and high-quality Dynamics 365 Implementation services.
Get Started


Support
Manage the Dynamics 365 Lifecycle with Online24x7's Global Support.
Get Started

Customization
Don't compromise on Dynamics 365 Customization Services: Hire only the Experts!
Get Started


Upgrade
Maximize your profitability by upgrading your system with Microsoft Dynamics 365 Marketing.
Get Started

Custom event triggers help capitalize on the key moments and create innovative customer interactions. The marketing team and the developers work together to integrate the small snippets of code in the system that initiate the event.
It helps create customer journeys based on the valuable information received and customer data received. With the help of real-time marketing, businesses get the following advantages.
Quick response to customers queries in real-time
Create personalised messaging with Dynamic text and images. Connect on customers' preferred channels, create text messages and push notifications, and reach out to customers effectively.
Outbound marketing Nurture leads: With the help of Dynamics 365 services, the sales team can convert the prospects into customers. They can get leads, identify the best leads and convert them into customers with automated lead scoring
Use social media: Social media is a robust platform that businesses can use to reach out to prospective customers and engage them better. Social media can bring high-quality leads for a business with effective messages posted regularly. With online surveys and polls, customers can voice their opinion, and the data helps companies make informed decisions. The customer voice surveys feature is available in Dynamics 365 Marketing. The feature is also available as an add-on feature in other Dynamics 365 products.
Outbound marketing also includes advanced in-person and webinar event planning features. With Microsoft Dynamics marketing automation, businesses can plan their events efficiently and use the event planning features to register for events quickly. The marketing team can manage the users with the attendance management feature. Webinars are the perfect platform to bring prospective customers together, and Microsoft Teams is a great interactive platform to host meetings with various collaborative features.
It's essential to converse with the webinar participants, engage the customers with personalised materials, surveys, and attract customers.
Real-time and outbound marketing can be used for marketing automation to send personalized emails and use analytics to get in-depth insights and make informed decisions.
Real-time marketing helps in better customer engagement at particular moments via emails and mobile platforms. Valuable insights are drawn from customer signals and profile data. The customers' journeys are created based on the customers' input.
Customer journeys can be started with custom events and draw data from other systems. Businesses can create personalised experiences when interacting with marketing sales and other allied services and engage loyal customers with Marketing Automation for Dynamics.
Outbound Marketing
Outbound marketing works in B2B marketing automation. Emails, newsletters, forms, capturing leads, and after scoring and grading, they are provided to the sales team. By integrating with Microsoft Teams, outbound marketing can manage webinars and actual events.
Choosing the right channel
You can take the help of experts and choose the best approach for your business—ideally, a hybrid module of both forms to make your marketing efforts a huge success.
Real-time marketing supports trigger-based and segmented-based customer journeys. Outbound marketing offers the forms and pages feature to gather new leads and use real-time marketing. Capture leads, lead scoring, and grading features along with real-time marketing.
Support your existing customer journeys with regular digital interactions and human conversations, attract high-quality leads and convert those leads into customers. With the help of Marketing Automation for Dynamics, you can effectively use real-time and outbound marketing.
With the help of Microsoft Dynamics marketing automation, create personalised customer journeys, lead scoring and grading, create interactive marketing pages, and leverage social media. Unify your marketing and sales processes and successfully reach out to prospective customers.
Online24x7 can assist you with Dynamics marketing-Dynamics 365 Integration, Dynamics 365 Implementation, and Dynamics 365 Support services. Explore the solution and its extended capabilities. So if you ask what Dynamics 365 Marketing is or what are the benefits of Dynamics 365 Marketing, you have got the answers and now know about the different elements of the solution.
Make your business grow
Let's discuss your project and find out what we can do to provide value.