Project-Management-Support
DELIVERING EXCELLENT PROJECT MANAGEMENT SUPPORT SERVICES
Online24x7- the best solution provider for Microsoft Project Management Software
Microsoft Project Management Software is a highly trusted, comprehensive Project Management tool that offers extensive capabilities to streamline various processes that lead to successful project completion. It is critical to have a dynamic Project Management tool as it lays the foundation for a successful business. Online24x7's experience in Project Management Support services is built over years of serving small and mid-size companies and leveraging their business to record levels.
We follow the best practices and offer the correct Planning, Staffing policies while employing a dynamic implementation approach for Microsoft project management software. We lead your Project Management solution with our expertise and are a talented team.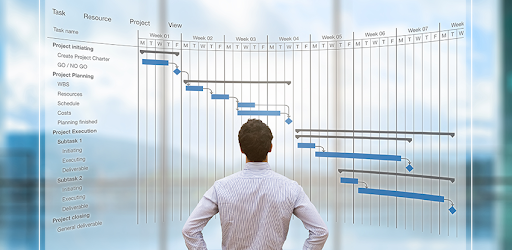 Our Support methodology for Microsoft Project Management Software Excellent Planning is the crux of a successful Project Management execution. Minute-planning with attention to all the details, risk identification, foresee issues, and devise ways to minimize or eliminate the risks involved. We employ the following detailed methodology to address your unique requirements for the software solution.
Identify Project Goals: Our team identifies the project goals, carves out a realistic view of the goals, and defining the success parameters.
Identify the Risks: Along with knowing and evaluating the success factors, it is also essential to see the project feasibility considering the different elements.
Identify Timelines: Forecasting the go-to-market date needs to be identified after evaluating the time taken for each phase of the Project.
Identifying the Team Involved: Executing the Project with the right people assigned specific roles to achieve Project Management Success. The internal and external teams are decided who will work upon the projects and execute them as pre-planned.
Continuous Support: We offer Continuous Maintenance and Support Services for project management tools to resolve issues immediately. Monthly Health-monitoring of the software solution helps track performance issues and ensures that the software solutions run without any glitches.
Microsoft project management software is a highly advanced software solution that offers vast capabilities in project management. It streamlines and automates processes, bringing more efficiency in each phase of the Project. Organizations need the right kind of support services and assistance in utilizing the platform to achieve success. Our team is an expert in offering you a conducive support environment that provides a complete Performance Troubleshooting Services.
Management Support Plans, Online24x7, is there to serve you with Microsoft Project Management Solutions. Microsoft Technologies set benchmarks in the industry and using and utilizing them most efficiently requires expertise and experience working in a highly escalated environment. Microsoft Certified partners with expertise in the same can offer you the best project management software solutions. Online24x7's team consists of Product Managers, Developers, Testers, and Architects who provide you the perfect solutions for project management software tools.
Get Project Management support and deal with challenges that arise from Integration, and Deployment of software solutions. With a dedicated Customer support portal, you can view the current Tickets and review the history. It will enable you to analyse the trends and meta-issues quickly. We have a decade of experience in offering robust Support Services for project management tools. Our consultancy team comprises experienced professionals who have dealt with many organizations and assisted them in optimizing Microsoft project management tools. The team has an in-depth understanding of the Microsoft project management software and thus can solve even the most complex issues arising in the solution.
Our Support services help to build Projects with professional expertise. You can build projects quickly with project management software tools. The software provides excellent assistance to managers in creating the perfect management plan and in the execution of the Project to achieve the desired goals and objectives. Online24x7's highly knowledgeable Microsoft Project Management Services enable you to get a higher ROI. The objective of adoption/Integration of an advanced ERP system such as the Microsoft project management tools depends on its optimum utilization. Moreover, you should be able to address the unique requirements of your business needs. All this requires expert advice and robust Support from an experienced Microsoft partner who can assist you in fulfilling the requirements and mitigate risks associated with the Integration and deployment.
If you have several ISVs integrated into your systems, then you can expect immediate fixation of issues with third-party applications. Our ISV partnerships lend us the expertise to resolve the problems related to ISV-ADD-on s/ Third-party applications. We also provide exhaustive Training on Projects Management Software. Our Training sessions will enhance your team's skills and offer them the requisite knowledge to leverage the solution and benefit from it. We offer the option to choose from Remote Training, Classroom Training, and Training in the Train-the-Trainer format.
USP of our Microsoft project management Support Services:
Quick Turnaround Time for project management software solutions addresses your Customisation Requirements
Audit your Project Management solution
Troubleshoot Errors in the project management software tools
Evaluation of ISV Add-Ons / Third Party Products
Modifications in the Project Management Software
Evaluation of project management tools
Minimize unstable implementations.
Identifies risk, mitigate the risks.
Highly flexible Support Plans
Discounted Project Management Support Plans
Fixed-Rate on Continuous Projects (Monthly Maintenance Services)
Support Portal Provided offering constant Support
Extensive Training
What does our Microsoft Project Management Tools Support Plan offer?
Best Practice Guidance
Product Rod mapping Guidance
Development Services
MS project management software Optimization
Project management software Troubleshooting
Performance Improvement in project management software tools
Dedicated Training Solutions
Report Modification
ISV Support
Quick Access to Project Management Support Representative
Dedicated Customer Portal
Add-on services
With the above-mentioned
Project Management Software Solutions
, Online24x7 offers Add-On Services as well. We resolve issues with third-party ISV products and Add-on Products. If you are looking forward to getting Project Management Support, then you can get in touch with us to get Customised Project Management Solution. Our experts will review your
MS Project Management Software Solutions
and provide a detailed analysis of its components, focusing on the software Performance. The report will touch upon the shortcomings and provide you information on how we can help you overcome them so that the software runs seamlessly. Get in touch with the experts now to get robust project management software Services. Benefit from the solution and utilize it optimally to extract the best out of it.
Welcome to Online24x7, a leading Software solutions provider and a certified Microsoft Partner that provides support for different Microsoft products. We have been providing support services to a large number of clients in India and overseas.
Our clients are fully satisfied with the kind of proactive round-the-clock support we provide to them. We, among varied Microsoft products, offer Support & Maintenance for Project Management. We believe in working towards achieving quality within the stipulated time and within budget and the same is delivered to our clients.
Project Management module of Dynamics 365 consists of various tools that help the organization to achieve goals, enable team collaboration to provide goods or services or complete a project successfully. It streamlines the entire process of Project Management right from the Price Quotations of the project to the Delivery of the project. It gives the team a 360-degree view of the financial metrics and supply chain process.
The solution is embedded with Business Intelligence that offers in-depth insights into the project management process leading to resolve issues at the earliest and move the project from one stage to another. The best part is that the team can view the status of each stage of completion of the project in real-time and thus corrective actions can be taken to fix issues at the earliest. The team can also make project forecasts and Budget forecasting and track the work progress. The solution offers an array of features and functionalities that help you to smartly lead project management and achieve the desired results. Whether its Manufacturing Retail or Financial services, the solution is equipped to handle the complexity of the project as it offers a solution from Start to Finish.
We have been designing and deploying IT solutions for over a decade. Our Support team consists of Architects, Consultants Developers assisted by a robust team of technical staff- trainers, testers and Quality assurance professionals. We offer the following support to our clients for a versatile software application -Project Management. We are in sync with the latest technological innovations, whether its AI, ML or Augmented Reality and offer products rolled out by tech giants such as Microsoft.
Onsite support:

Our team consists of dedicated professionals and experts specializing in offering Onsite Support for Project Management. Get seamless integration into Microsoft Dynamics apps and Office 365 integration to put your business operations on the fast-track. Our consultants have rich experience in Dynamics 35 product implementation and visit your office as per your convenient time.

Offsite support:

Whether it's about providing a comprehensive solution for ready-made products or adding the required customization to the original product, our team is an expert in offering Offsite support.

Remote support:

A robust team that has experience in simplifying complex problems by offering support in a large number of small to mid-size companies in domestic and international market, you can be assured of the fact that remote support will be made available to you to fix issues at the earliest so that your business operations are not hampered.

SOW support:

Implementing the Project Management module requires proper documentation of work requirements and work conditions. Our experts create a precise SOW- Statement of Work for the same leaving no room for misinterpretations.
If you are looking forward to getting support for Dynamics 365 Project Management, then Online24x7 will prove to be the right choice for you.
Make your business grow
Let's discuss your project and find out what we can do to provide value.