SharePoint your trusted Intranet has become an absolute necessity where the focus is on Team collaboration and empower employees with the necessary tools to provide the desired deliverables. SharePoint lets users build sites and broadcast the required information with the stakeholders of the company. SharePoint acts as an essential tool for enterprise collaboration and communication and contributes to creating a modern workplace that boosts team productivity and fosters team spirit. Its high time organizations switched to SharePoint Online Migration. Microsoft 365 SharePoint Online will offer several advantages to the users, so they must consider Microsoft SharePoint online services. Organizations can easily manage public-facing websites and create many internal sites for seamless collaboration of work within the organization.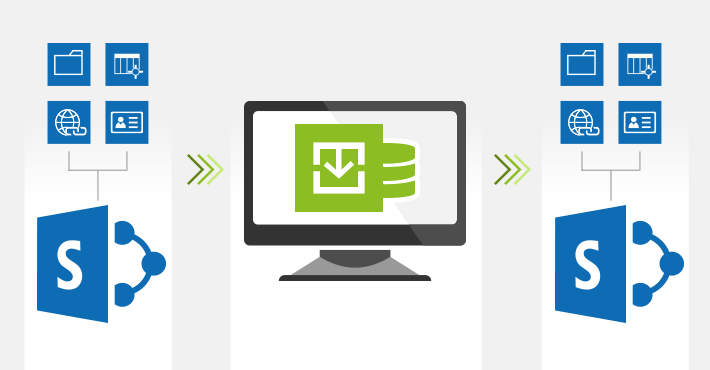 Why you need SharePoint Migration services?
High Security: Security is a significant concern for every organization. They are interested in adopting new technologies and upgrading to the newest versions of their solutions while keeping the security of their data intact. Microsoft provides additional data with multiple layers of security provisions. Several layers of backups ensure that your data is safe and secure. So, you can consider using SharePoint online migration with peace of mind.
Automatic Upgrade: Using SharePoint Online migration services, organizations can benefit from the latest SharePoint Online features. With SharePoint online migration, they get all the new security features and extended capabilities before the on=premise gets. You need not manage the upgrades as these are taken care of without any effort.
Maintenance Cost: SharePoint online migration helps reduce operational costs, and there are no worries about the maintenance of Data Centres and on-premise storage with Microsoft SharePoint online. Your SharePoint experts will take care of all the upgrades and backups leaving you with a substantial amount of time for essential business activities. You can reap the benefits of cloud storage, and in the long run, also it will prove to be cost-effective.
One-Drive storage benefit: SharePoint online comes with One Drive's 1 TB of personal storage plus SharePoint's additional storage giving you massive storage space to store an incredibly large number of files. You can save files with the highest security and ensure the Data sharing process is safe and secure.
Easy External user Access Management: With SharePoint Online, it's easy to manage external users' access with the desired level of security intact. Organizations can easily manage external files/ data with clients from anywhere and monitor them with great ease.
Use SharePoint while-on-the-go: Users can easily access documents, share files on the wen or your mobile devices with office 365 SharePoint online. There is no hurdle in carrying out business anywhere when you have the cloud-based version of SharePoint. It allows employees to connect, share, and collaborate files, folders, and documents easily from anywhere and anytime.
Benefit from the Hybrid environment: Users can opt for a preferred mix of a Hybrid environment. Users can easily benefit from SharePoint online capabilities. If they have security issues that can keep the on-premise data and the rest of the data, they can store in SharePoint online. So, it is a win-win situation for users who get the advantage of both on-premise and SharePoint online solutions.
It would be great if you had experts to carry out the SharePoint Migration process. You can rely on an experienced organization that can offer SharePoint 2010 to SharePoint online, Microsoft office 365 SharePoint services , and Microsoft 365 SharePoint online services. You can trust the experts to provide you with Microsoft SharePoint online services so that you can concentrate on core business activities. It is necessary to migrate third-party solutions to SharePoint or SharePoint migration to get upgraded features and boost productivity at the same time. Migration also helps in reducing the operational cost and benefits the organization in the long run.
Online24x7 has helped many organizations to perform SharePoint migrations seamlessly. We provide all solutions for all platforms, and we work for all the SharePoint versions. We develop interactive reports which organize the information extracted from the SharePoint Migration Analysis Tool from Microsoft. The data offers Actionable Insights and get a meaningful perspective on the information gained from migration. We have a skilled Team that handles even the most complex migration processes. They also build custom solutions that address the unique requirement of your platform. We offer Migration services for on-premises, cloud, and hybrid solutions.
SharePoint Online/Office 365 Migrations
SharePoint Version Upgrades
Custom Application Migrations
Hybrid Migrations
Legacy/Third-Party System Migrations
New Features in SharePoint Online
It is a highly intuitive touch-enabled interface for Mobile devices.
Modern User Interface
Automatic updates for SharePoint Online
Microsoft Power apps help in automating business processes
Easier File Sharing and Document Collaboration
Yammer is now available in SharePoint Online.
Planning is the first step in any Migration process, and we focus on meticulous planning. We know that numerous hindrances come in the way of a successful SharePoint Migration process. We know the risks as have implemented hundreds of SharePoint Migration processes and are aware of the Pain Points. Thus, we employ a proactive approach to deal with the challenges. Online24x7 works to offer you the best SharePoint Solutions. We use the Migration SharePoint tool to ensure better efficiency and a reliable Migration process with the desired results.
It has been more than ten years since we started our journey, and we have associated with many organizations looking for reliable cloud solutions. We have worked in sectors as diverse as Banking, Financial, Legal, Healthcare to Retail, and manufacturing.
We offer the following Microsoft office 365 SharePoint services:
On-premises Migration
Online Migration
Office 365 Migration
SharePoint 2019
SharePoint 2016
SharePoint 2013
SharePoint Foundation 2013
SharePoint 2010 and earlier versions
If you are looking forward to getting s seamless SharePoint online migration process from SharePoint 2010 to SharePoint online and from the older versions., you can get in touch with us our experts to get the best Microsoft 365 SharePoint online solutions.
Make your business grow
Let's discuss your project and find out what we can do to provide value.