Empower your Business with Power BI
Today organizations rely upon smart and Intelligent solutions that act as a catalyst to reap in more profits. Power BI is the new-generation tool that will help them to sync their critical business data and make decisions faster. Power BI empowers you to get a comprehensive view of your entire business operations from anywhere and at any time. It is possible with the help of apps available for different Operating Systems.
This cloud-based business analytics tool creates interactive reports quickly and enables the organization to make decisions fast. Users can view the entire business operations with the help of live dashboards and get a 360 degree of the business. Precious time is saved in creating reports manually and users get instant reports on financial management, Sales, Customer service, etc. With Instant monitoring, users can tap opportunities by making highly-informed decisions.
With Dashboards, reports, and Datasets, users can get a personalized view of the business metrics and store content easily. With accurate and complete data available at fingertips, a business can collaborate and increase productivity. In a nutshell, if precise information is available at the right time, decision-makers are empowered to make decisions that make the company achieve its goals faster. With assigning accountability to KPIs, business operations are streamlined, and the desired results are achieved.
Online24x7 is a Certified Microsoft Partner, and 10 years of experience in the IT industry and a vast database of satisfied clients make us a popular choice for the deployment of different IT products and services, including those rolled out by Microsoft.
We adopt a holistic and collaborative approach to implement Power BI into your IT infrastructure. We act as a dedicated POWER BI partner and provide efficient services in POWER BI Deployment and POWER BI Management. We ensure that the solution generates accurate metrics leaving no scope for error. Data is regularly updated in the system to get complete data metrics.
We also offer POWER BI user training so that employees are equipped with knowledge and skills that can help them to utilize the platform in the best possible manner.
Power BI is a business analytics solution that allows data visualization and the same data insights can be shared throughout the organization. The data can be embedded in the app or website. A large number of data can be connected and organized with live dashboards and reports.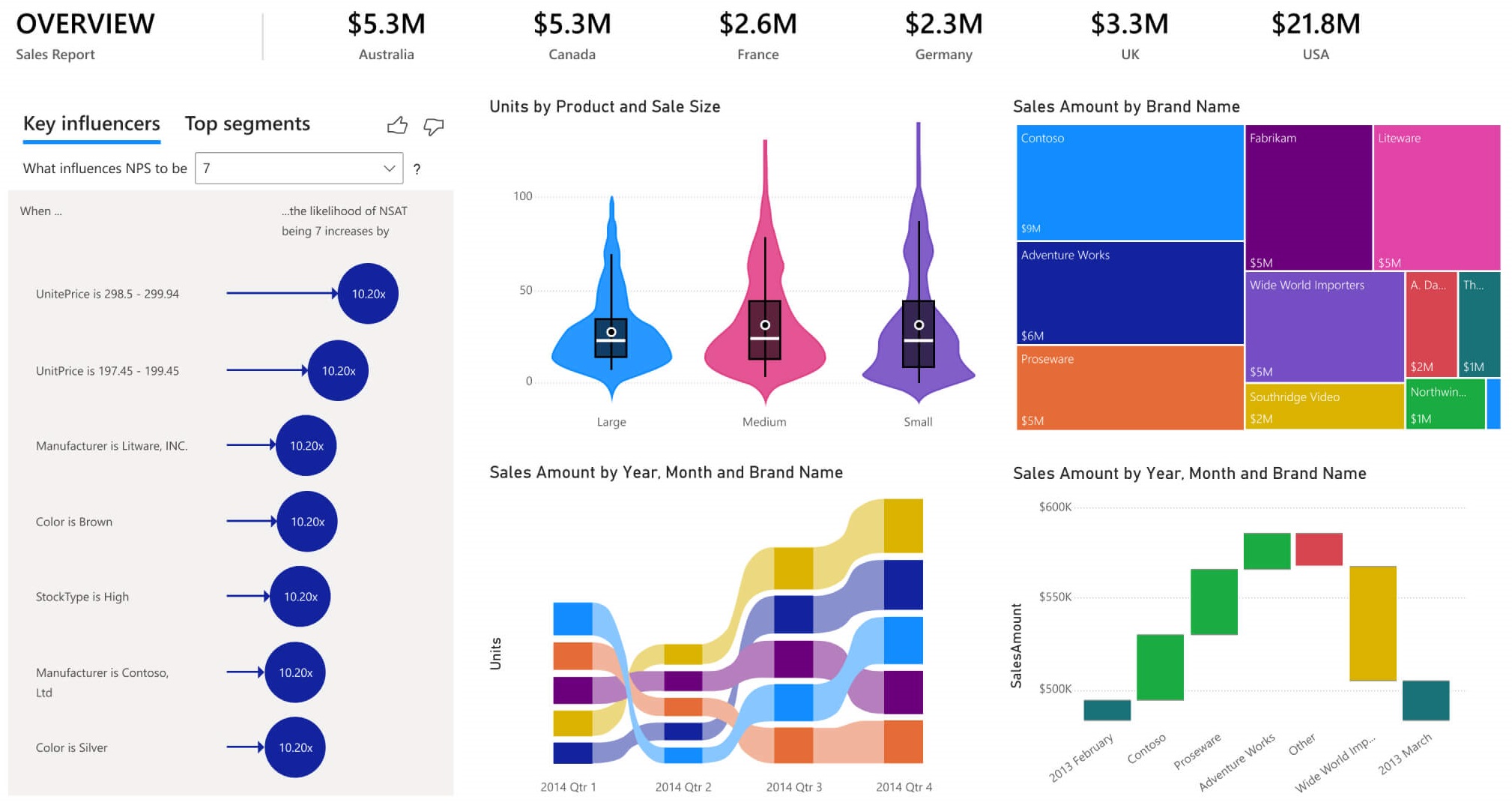 There are three components of Microsoft 365 power BI
Power BI service
Power BI service is a Microsoft Power BI software that offers a combination of Software solutions, Applications, and Connectors that work in synchronization to provide data insights that help the business to run efficiently. Power BI online is the SaaS part of Power BI. Dashboards in the  BI software solutions  are the focal point that helps businesses to make highly informed decisions. The dashboards and the reports generated are connected to Datasets which combine data to offer actionable insights. With  MS Business Intelligence , the data is converted into visuals and the information is organized empowering the business to get a 360-degree view of their business. It offers  Business Analytics and Business Intelligence  for the organizations' every activity.
Power BI Desktop
Power BI on Desktop is a windows desktop application. The visual Analytics in the solution enables us to create rich, interactive reports and thus Actionable data makes the process of decision making easier. The team manager can access data from various sources – both on-premise and cloud services. Create rich data insights and gain invaluable information. The self-service Power Query helps in preparing data with advanced data modelling tools. Get access to advanced analytics. Discover data and patterns with advanced features such as Quick measures, Forecasting with Business Analytics and Business Intelligence. 
There are a large number of modern data visuals available from Microsoft and with the help of Power BI open source See More..
Power BI mobile Apps for Windows IOs and Android devices.
The crux of Power BI is its intuitive Dashboards and reports. Users can view live Power BI dashboards and Power BI embedded reports in the mobile app. They can carry out business operations on phone with business intelligence software solutions. With Power mobile apps, get access to on-cloud data or premise data which is stored in SQL Server. Get a complete view of your data, and entire business operations can be viewed on fingertips. Talking about the security of your Data, Microsoft Intune secures your confidential data.
Benefits 
A few advantages are listed below:
Ease of Implementation
With Power BI, sending data in spreadsheets has become redundant as the  Microsoft Power Bi Software  allows the conversion of data into attractive Visuals that provide a greater understanding of the business operations. A centralized dashboard with an easy-to-use interface connects a large number of software solutions. Users can easily access data from Cloud and premise and even Hybrid clouds.
Controlled Access
Managers can provide access to the team and control it easily on a controlled level. The row-level security is an attractive feature and thus offers a higher security level. It also makes the process easy of extracting and presenting data in interactive Data visualizations.
Easy Collaboration
Enterprises can make highly informed decisions by sharing data visualizations based on facts. The visuals can be shared with team members internally and externally as and when the security permissions can be changed. Get your team to know the latest insights. In this software, you can also share live reports and dashboards easily from the app and thus it becomes very easy to collaborate with your team. 
Quick Decision-making process
Decisions can be made while-on-the-go with power /Bi Mobile App. Foster team spirit by increasing collaboration among team members by keeping in sync with the content subscriptions and update alerts. The 3D touch is an innovative feature that allows to easily access shortcuts from the home screen. Also, push notifications are made available for personal data alerts. the app is a cluster of all capability's users can access Power BI reports and Dashboards. Moreover, SQL Server Reporting services can also be accessed along with content from the Power BI Report Server. All the data can be easily accessed in one app. The data in the app is secure with the application management capabilities and Microsoft Intune mobile device.
Discover the world of big data and business intelligence with Power BI with assistance from Online24x7. Make your decision-making process prompt, and a highly informed one to put your business on the right track.