Give more Power to your Energy Business with a Full-suite ERP Solution
The world is dealing with the crisis of depleting natural resources and efforts are being made towards optimum utilization of resources and meet the soaring demand. The energy Industry – Electrical, Wind, Oil & Gas, Water Utility service providers require tools that can help them to get optimum performance of the resources and have control over the surging prices. With ERP software Solutions for the Energy Industry, the organizations can get an organized supply chain management and Inventory Management, and they can manage all their other operations efficiently.
The Energy industry is witnessing a lot of changes such as fluctuating prices, modern accounting processes, Project Administration, Asset Inventory, and thus they need proactive software solutions that can help them to manage all their operations with higher efficiency. The positive results are passed on to the consumers in terms of better response to peak requirements and maintenance of resources. Effective Management helps them to manage the resources efficiently and respond to the consumers' needs proactively. ERP tailored made for the Energy and Utility Industry assist it in ensuring smooth execution of business operations by unifying employees and resources to offer better customer experiences. Expect a high level of efficiency and better results with our ERP Software Solutions. ERP software solutions help them in carrying out operations within the organization. Our ERP software solutions, help to streamline different functions. Read on, to know about them.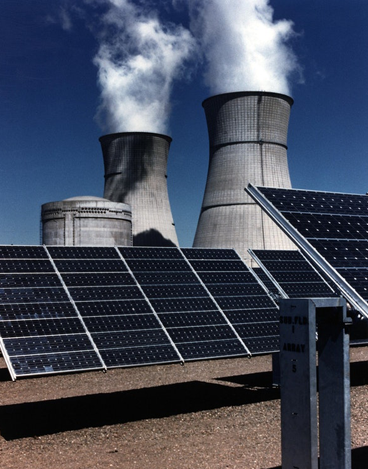 ERP for Energy and utilities
SOFTWARE SOLUTIONS FOR ENERGY SERVICES
ERP FOR ENERGY:
ACHIEVE OPTIMUM UTILIZATION OF ASSETS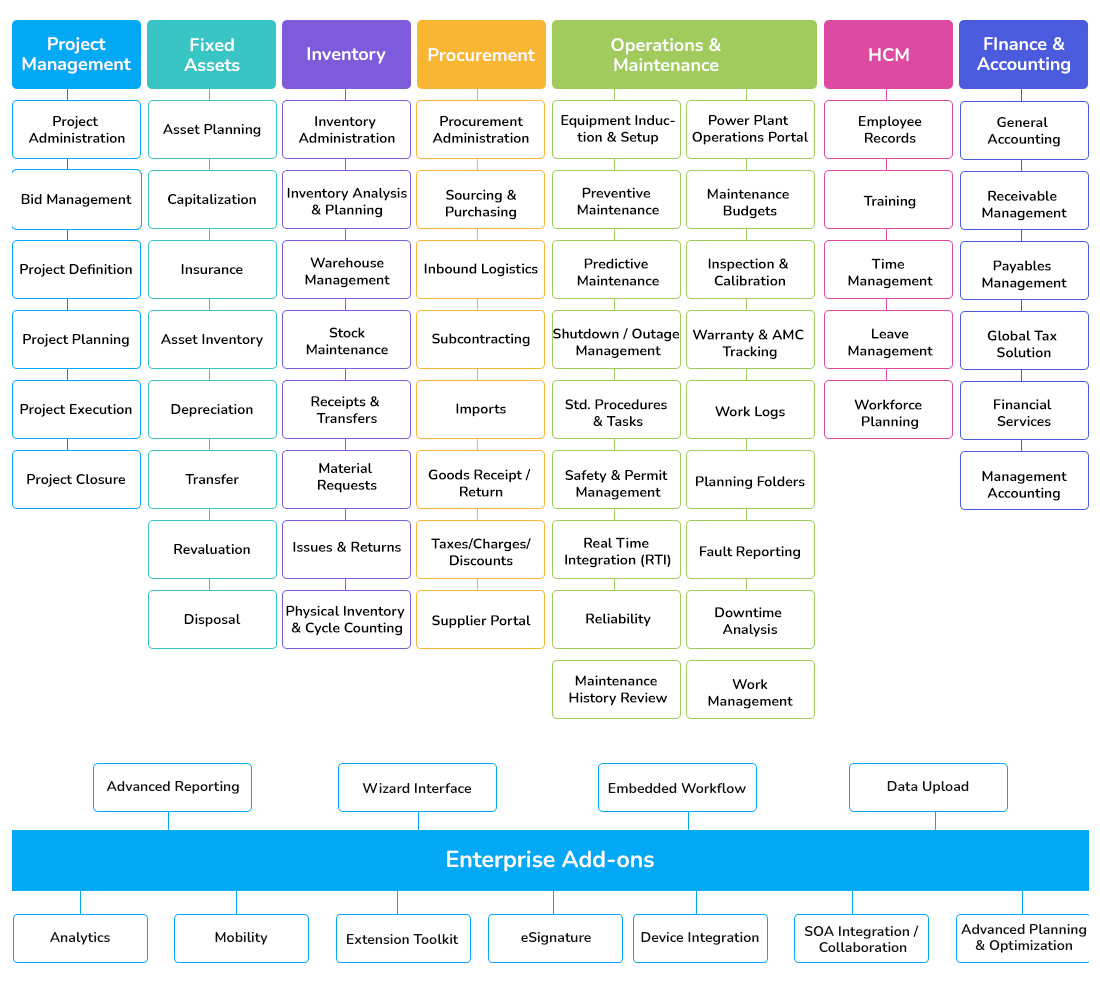 Different operations can be made highly organized and structured by getting fully-integrated modules to carry out different transactions such as improved billing modules, better Resource planning, arriving at better decisions with the help of reports created with AI embedded in the software solution. Get Plant Optimization Solutions, Enterprise Asset Management Solution, Fuel Management Solutions.
Our ERP software solution offers a practical solution that can meet, adapt to the variable requirements of the Energy industry. Get complete control over the process of supply chain and logistics. With a 360 degree view of the Supply Chain Management, and logistics operations, loss-in transit can be prevented, and thus the profit can be increased. Smart Metering capabilities ensure accurate bills and a smooth bill-cycle.
Achieve better inventory management, streamline the procurement process and improve operational control. Organize the accounting process with fast Accounting and Ledger Modules. Streamline General accounting, Receivables Management, Payables Management, and financial services.
Whether it's about consumption of units, taking care of the equipment, our ERP assist the Energy Industry in excellent Management of the assets. Their maintenance too can be taken care of with the help of one unified system that acts as a great platform to manage all the activities, and thus organizations can achieve a high level of efficiency. With our ERP software solutions, manage projects smartly. Streamline Project Administration, Planning, Project Execution and Closure with an advanced software solution. Handle all the activities related to Asset Management with proper Asset Planning, updating the Asset Inventory, learning about the depreciation, revaluation and eventually the disposal of the assets.
With customized software solutions for the Energy Industry large companies can ensure an unhindered enterprise employee activity, thus guaranteeing uninterrupted implementation of activities. The large utility providers can easily connect with their e-stores, delivery partners and other associates and organize their processes, and put an active channel of communication in the system. Get organized web and intranet portals which promotes the smooth flow of operation.
Customer satisfaction is something that organizations have to work upon continuously With our ERP software solutions, take proactive steps to engage with the customers and build loyalty.
With limited resources available to industries such as Oil & Gas, it is imperative that the Energy Industry makes Resource Planning and Management a priority. It is one of the main challenges of the Energy Industry. With a modern ERP software solution, the business, as per the requirement of the project, efficiently allocated resources.
With Extended Capabilities, our ERP assist in bring together teams and make them more efficient towards achieving the goals of the company. Improve processes such as Inventory Administration, Warehouse Management, Stock Maintenance, Receipts & Transfers, handling Material requests, issues and returns. Streamline the process of Physical Inventory and Cycle counting.
With our ERP solution, efficiently deal with the Procurement Administration, Sourcing and Purchasing, and handle the Taxes, Discounts and other activities about the procurement process via portal dedicated to the suppliers. A global tax solution helps to comply with the tax norms.
The Energy Industry can ensure the smooth running of the operations by including proactive measures for Preventive Maintenance, Predictive Maintenance, and complying with the standard procedures and With access to Power Plant Operations portal, businesses can get access and thus more control over Work Logs, Work Management and ensuring that the downtime is taken care of immediately.
The Human Resource Management process also becomes organized with quick and easy access to the employee records, Training process, Leave Management and HRM planning and successful implementation of policies.
Consultancy like never before with the best team
With our ERP for Energy, you can implement the various processes efficiently that fetch the desired results. Online24x7 offers fully-integrated and easy-to-deploy ERP software. With quick installation and our Support, go live with the software in just a few days and make use of the immense possibilities offered by our software solution. Online24x7 understands the need for Energy Service providers and thus provides them advanced software solutions that help them bring operational efficiency, better prices, and thus ensuring a high level of customer satisfaction. With our full-suite ERP solution, get asset reliability and increased profits!
The Energy & Utility sector has a challenging work environment and is full of opportunities. The biggest challenge is to achieve optimum utilization of the scare resources. Moreover, natural resources are already declining and the energy & utility industry has to manage and maintain the capital-intensive assets efficiently. They have to improve the operational efficiency and maintain efficiency through the entire supply chain. Organizations involved in the energy sector have to constantly battle the ever-increasing demand in adverse market environments. To face the aforementioned and many more challenges, it is imperative for the Energy & the Utility sector to get advance software solutions for energy services so that they are able to concentrate on innovation and serving the customers in the best possible way.
We offer a technologically advanced software solution that is easy to implement and is equipped with powerful capabilities. It is a flexible yet a comprehensive software solution that meet the requirements of the Energy & Utility industry in the best possible way. Our software solution is cloud-enabled, with no upfront costs included. Power generation & transmission, water treatment plants, oil & gas, -all these industries use our flexible and technically advanced and easy to deploy ERP for Energy.