Our erp on cloud for facility management services industry – broaden the customer's smile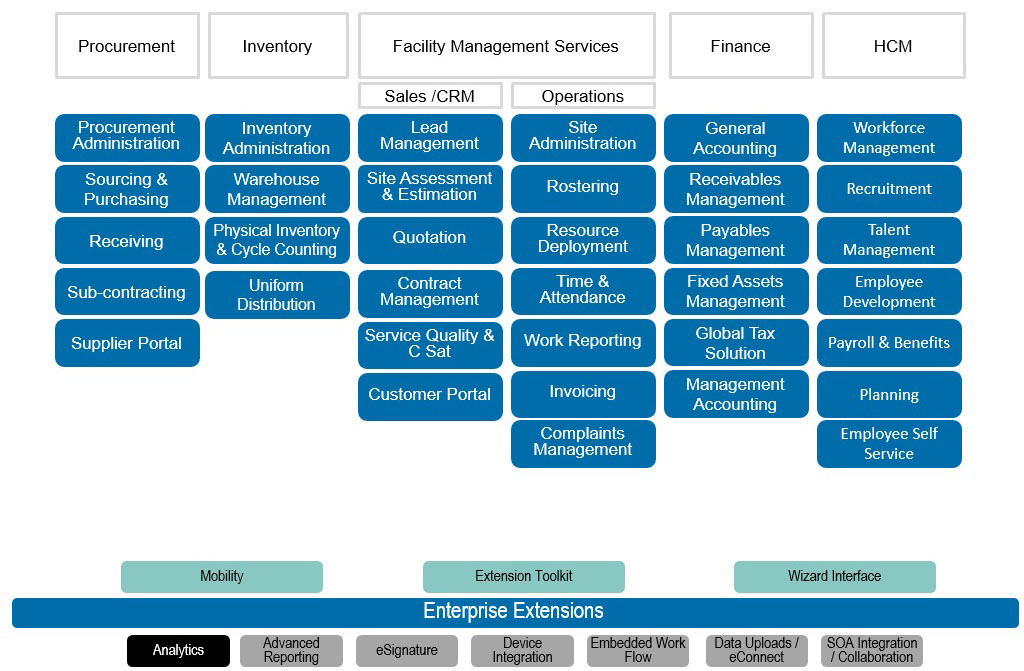 Augment growth of your business, boost your revenue

Facility Management is very important for giving customers satisfaction in the goods and services. Maintenance of a commercial establishment is crucial for customer retention and ensuring that business is conducted without any hindrance. Facility management is crucial for every industry, be it the hotel industry or a security business; efforts have to be made to maintain the property in such a manners so that the organization is able to serve its customers with excellence. It requires great planning on the part of the organization and to ensure the task is performed well, they need an advanced Facility Management System.

At, Online24x7, we offer an ERP for Facility Management, which helps in maintaining a smooth integration between operations and payroll and ensures timely and accurate billing etc. The software ensures that the daily activities are carried out on time and business processes are streamlined. Our Facility Management System Software addresses the need of various industries such as the Hospitality/House Keeping industry, Maintenance & Engineering companies and that of the Security service providers.

The hospitality industry needs highly proactive facility management software because it is a service—oriented industry and customer service is the first thing that needs to be accomplished. Our software solution assists managers in exercising greater control over numerous business activities such as sales, operations, billing, lead management etc.

The Maintenance & Engineering services industry is able to upgrade their customer service and achieve optimum utilization of services. It reduces the downtime to a great extent and facilitates an uninterrupted flow of business.

The Security services providers can make the management of complex processes a relatively easy task. With the help of our software, resources can be deployed to each department as per the exact requirement. Moreover, the ERP ensures timely billing of services.
Advantages:
Customer satisfaction is ensured at all levels and excellence is integrated into the business processes.
Our Facility Management system software facilitates automatic integration and communication between operations and back-office management.
Departments can receive timely notifications which help in increasing the operational efficiency.
The software ensures sending of timely and accurate bills to the concerned departments.
Make your business grow
Let's discuss your project and find out what we can do to provide value.