Project-Management-Migration
Project Management Migration-The need of the Hour
A successful business can be built if it keeps pace with the dynamic marketplace, among other factors, to continue making profits to survive. It's essential to be agile in the business activities and be ahead of the curve and tap the new opportunities. Project Management is one such aspect of the business which needs detailed attention to deliver projects on time and successfully. Today Microsoft Project Management has become the ultimate choice for businesses as it provides them the ability to plan, schedule, monitor, and deliver successful projects within the stipulated period. If you are not using Microsoft Project Management tools and the Microsoft Project Management Software, then it's high time you switched to this reliable project management software from Microsoft. It's time to look beyond desktop applications and benefit from the flexibility of the online Project Management Software Solutions and get the customization you need.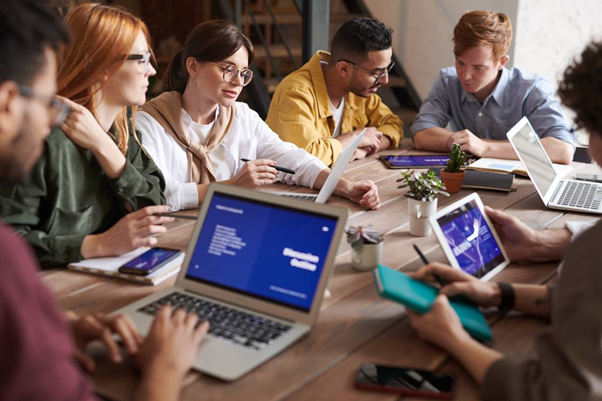 Online24x7 has successfully delivered more than 1000 cloud-based projects and assisted many organizations in reaping the benefits from the latest technologies hitting the market. Online24x7 is a proud Certified Microsoft Partner that Microsoft solutions Integration, Support & Maintenance services.

Microsoft Project Management Software allows coordination with the team, assigning them the tasks while tracking their accountability, allocating resources and budget, controlling cost, and tracking the project to deliver its successfully within the time frame. It is critical to stay organized and focused on projects that can be efficiently done with the Microsoft Project Management Software Solutions. There are several tools in the solution that help the team manage projects efficiently and focus on completing the projects step-by-step to ensure its successful completion. With robust communication channels in place, the units can communicate effectively and put the project on a fast-track.

If you want to upgrade from Project Server to Project online or wish to migrate from project software to Microsoft Project Management Software, you need the assistance of an experienced Microsoft Partner to help you configure and migrate the software. Online24x7 will check the feasibility of the performance of Project Management Software and creating project teams that focus on providing high-quality deliverables within the stipulated time, and decide on the Objectives, which is a crucial aspect of Project Management.

We understand that every business is unique, and its requirements are also individual. Thus, companies must get customized solutions so that they can achieve optimum utilization of the software solution. When using project management software tools, they need a solution that can address their requirements correctly.

Online24x7 weighs the pros and cons while offering software solutions to the clients while keeping in mind their requirements and analysing which software would meet their needs in the best possible manner. We have provided cloud-based solutions to many companies after thorough research and understanding of their requirements.

Online24x7 provides enterprise-grade reliability and provides uninterrupted Support & Maintenance Services. Moreover, our Training sessions empower your employees with the requisite knowledge and skills to use the tool correctly, and they can utilize the solution to leverage the business. Project Management Solution Migration is incomplete without proper training to achieve the desired results and fulfil the purpose of migrating to Microsoft Project Management Software.

If you are using on-premise Project Management software, it's high-time you migrated to MS Project Management Software. There are some compelling reasons to migrate to Project Management Software from the Premise Project Management software Read on to know about them:
Low upfront cost. With Project Management Software Solutions, you get rid of paying huge costs involved in buying software licenses server hardware and investing in an elaborate IT framework and its Maintenance. MS Project Management requires a reasonable subscription fee, and more savings can be obtained by subscribing to the Annual plans.
Microsoft Project Management Tools are available via the cloud, and thus users can easily access files, view, edit, and share them. Internet connectivity enables access to the project from anywhere and at any time. Businesses can quickly address the requirements of mobile users. The migration will ensure that you get the latest updates before anyone does and do not have to pay additional costs for upgrades.
Security: MS Project Management Software offers protection. The Cloud Computing capabilities ensure your files are secured, and your sensitive data is protected, letting you concentrate on the successful completion of your project.
Real-time Communication: an active and real-time communication channel in solution allows the team members to collaborate and achieve the goals much faster efficiently. Information uploaded in the solution immediately notifies the concerned team members, and quick feedback allows moving to the next stage leading to faster completion of the project. Users can refer to the conversations stored in the solution, leaving no room for error in Communication.
Increased Collaboration: MS Project Management Software solution allows easy and quick collaboration among the team members. They collectively can work towards achieving the objectives and complete the project successfully.
Instant Updates: users need not download the updates when the new updates are available. Project management software tools are automatically updated. No lump sum costs need to be incurred to upgrade the solution. Moreover, your IT team will not be involved in implementing the upgrades, which is otherwise a time-consuming process.
Low IT Maintenance: There's no requirement for maintaining the server in the case of on-premise solutions. Your Project management software's maintenance responsibility of the service provider and not yours. So, the Maintenance work is dealt with by the service provider, which saves time and resources.
Make informed Decisions: As said earlier, a business needs to be agile to tap opportunities; Project Management Software offers the latest and updated information which companies can use to make informed decisions in the interest of their organization.
Make your business grow
Let's discuss your project and find out what we can do to provide value.