SharePoint Support & Maintenance
The Extended Capabilities of Microsoft office 365 SharePoint services
Microsoft SharePoint Online is a cloud-based service that can be readily used by businesses irrespective of their size. The best part about Microsoft office 365 SharePoint services is that a company can get Microsoft 365 Subscription plan or opt for standalone SharePoint service. Users need not install and deploy the SharePoint server on-premises with this cloud version office 365 SharePoint. Users can easily organize share and manage content, knowledge, and applications.
Advantages of Microsoft 365 SharePoint online
Office 365 SharePoint online provides a brand-new platform that offers excellent scope for interaction, collaboration, and offers shared access. Teams can work from anywhere as they get the flexibility of place and time. They can work together in a highly reliable and secure environment provided by Microsoft SharePoint online Microsoft office 365 SharePoint services come with many additional capabilities and are offered as a part of Microsoft packages with an Office 365 and Microsoft 365 license.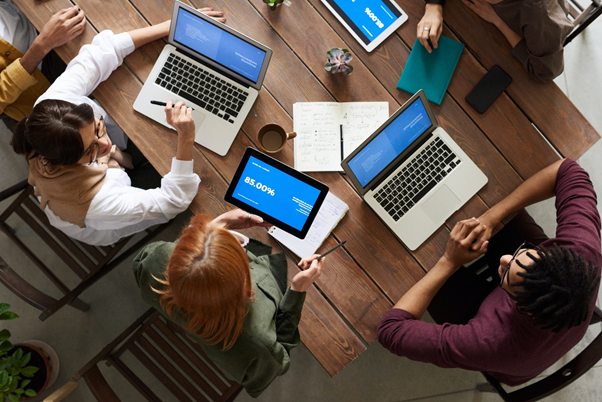 Cloud-based service
The best part about office 365 SharePoint online is that the solution is cloud-based. Cloud-based capabilities allow users to access it from anywhere, anytime. All you need is a web browser, and you are good to go! Your data is more secure with Cloud services. The upfront costs that require investing in setting up servers and not to forget the maintenance costs- there is no such thing that SharePoint Online needs.
Efficient Content Management System
Office 365 SharePoint online acts as a one-stop destination for all your content needs. Users can quickly locate the desired information and make quick decisions with quick access to information.
Easy Customization
Office 365 SharePoint comes with its excellent set of standard features, but customization adds utility to the solution. Every organization can create their unique identity in SharePoint Online. SharePoint online is highly customizable, and it gives organizations a free hand in customizing their intranet.
Integrates with Microsoft Teams
When you can integrate SharePoint Online with Microsoft Teams- it helps to collaborate even better. Users can create pages embedded with excellent functionality with SharePoint's new pages and SharePoint framework. It is always nice to work within Teams with documents that you can easily refer to and take Team Collaboration to the next level.
Easy storage
Microsoft 365 SharePoint online users can easily save and sync flies by using OneDrive for business. So, there is no need to save files on the desktop. With OneDrive for Business, users can easily access documents at any time. SharePoint Online enables controlled access and which allows managing access to sensitive data.
Ensures Greater Transparency
While working on Project Management, office 365 SharePoint online proves to be the best platform ever. Not only can users view and work on their documents, but they can also view the documents on which their colleagues are working. Of course, they need to have access to such files and documents. It ensures that the entire team is on the same page and can collaborate wonderfully to achieve the desired results.
SharePoint is a powerful Application that allows excellent team Collaboration. Reap the benefits of SharePoint with our Continuous SharePoint Support Plans. Looking for round-the-clock SharePoint Support & Maintenance? Online24x7 has 10 Years of experience in offering SharePoint consulting and Development services ensuring that our clients can reap the benefits of the SharePoint platform to the fullest. Online24x7 has an experienced team of Consultants, Technical experts, and Developers who have worked with a large number of small and mid-size companies that thwart the challenges that arise due to technical issues and integrating the solution with existing applications.
We offer SharePoint Support and with our dedicated services, our clients can fully concentrate on their Business Activities. We offer extensive support for on-premises, Cloud or Hybrid SharePoint Solutions. Our experts ensure that even the most complex problems and the business operations are carried out without any hindrance. Our team provides the following SharePoint Support.
Find the bugs and fix them
Solve issues relating to Hardware and Architectural issues
Fix search issues and fix incompatible add-ins
User Authentication issues
Fix issues regarding accessing SharePoint
Fix Integration Issues
Update the system on a regular basis
Fix Content Management issues
Get flawless performance and extended Development Capabilities
Carry on Security Audits
SharePoint adoption and further leveraging its extended capabilities
Monitor SharePoint and fix any performance issues
Azure Services Management Support
If you are looking forward to getting Azure Services Management Support, then you can trust Online24x7. We offer License Selling, Consolidated Selling. Account Administration and license Management.

Online24x7 offers flexible Maintenance plans. Get excellent SharePoint support from SharePoint certified Developers, and Consultants. We offer Onsite support, Offsite support, Remote support, and SOW Support.

Ensure confidentiality and security of SharePoint support with our Round-the-clock and Prompt Support. Our team has experience in successfully integrating the SharePoint solution with other ERP, CRM, etc. Our team of experts also training for both SharePoint Administrators and End-users. Subscribe to our Flexible SharePoint Maintenance plans Now! Avail Discounts!
Make your business grow
Let's discuss your project and find out what we can do to provide value.