Dynamics 365 finance and operations is a popular ERP solution by Microsoft that manages various functions such as finance, accounting, production and warehousing, and logistics. The previous year, Microsoft split this solution into two apps- Dynamics 365 Finance & Dynamics 365 Supply Chain Management.
D365 finance and operations help manage the finance operations in real-time using AI. Businesses can optimize their finance operations by automating routine tasks and bringing more efficiency into the finance operations. It streamlines various aspects of financial management.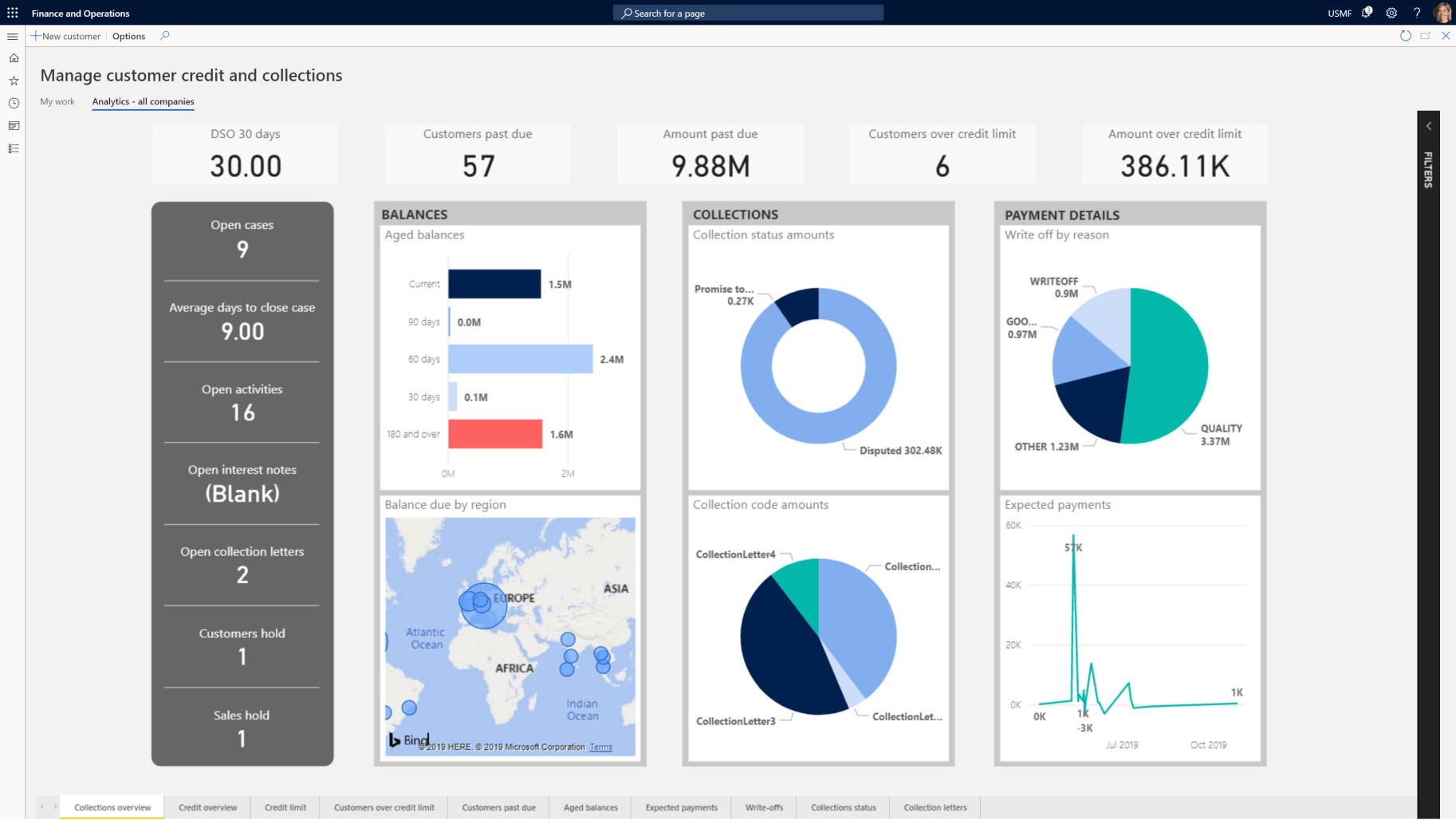 Manually managing the invoices is a cumbersome task that is prone to human error. The invoice matching feature in Microsoft dynamics 365 for finance and operations and organised workflows quickens the invoice review process. It allows specifying approval for particular invoices to automate the review process and others for manual review process as required.
Dynamics 365 Finance uses sales orders to create invoices and invoices for items not associated with the sales order. With a centralised payment system, receive payments from different methods -cash, cheques, electronic transfers, and credit cards.
Manage budgets efficiently, track all the transactions, and create control levels that align with the company's policies. With Microsoft dynamics 365 finance and operations capabilities, organisations can revise the existing budgets and transfer money from previous years' budgets to the current one, so budgeting becomes a streamlined process with D365 finance & operations.
Companies can effortlessly manage the bank accounts of legal entities, manage cheques, and other bank-related records. The complete bank data can be integrated into the reports giving a comprehensive view of the bank transactions.
Gather payment data by tracking credit card transactions and identifying the expenses incurred by the employees for job-related tasks with Microsoft dynamics 365 for finance and operations.
The Dynamics enables creating, updating, and arranging reports giving an organised view of the finance operations.
Businesses can use Finance and operations dynamics 365 to keep track of the resources allocated to each phase of the project. Companies can get a clear picture of the cash flows of different projects.
DYNAMICS 365 SUPPLY CHAIN MANAGEMENT
Dynamics 365 Supply Chain Management solution help companies monitor product quality, streamline operations and maximise operational efficiency making the supply chain process more efficient. The various aspects of the app include-
Asset management — Manage assets and keep track of the depreciation and repair services by managing the assets - production equipment, machinery & equipment, etc.
Cost management — Efficiently manage the costing of raw materials and finished goods and keep track of product costs at different levels of production with Microsoft dynamics 365 finance and operations.
Inventory management — Manage stocks with greater efficiency by optimising the different aspects of the inventory management such as inventory control, quality assurance, outbound, and inbound inventory-related activities in the Microsoft D365 finance and operations solution.
Sales and Marketing - Monitor the sales and marketing campaigns and strengthen customer relationships to make efforts in the right direction to build a loyal customer base.
IoT —The innovative capabilities of IoT help efficiently and proactively manage various functions such as production delays, downtime, or quality issues. With quick notifications, businesses can make timely and informed decisions and resolve the problems before significant impact.
Procurement - Keep track of the procurement process with finance and operations dynamics 365. It provides a centralised system that streamlines everything from the sourcing function, from identifying the products requirement to making payments to the concerned vendors.
Logistics management — With the help of this Dynamics 365 solution, companies can efficiently plan and manage transportation activities and ensure the smooth delivery of orders.
Warehouse management — The solution helps effectively manage the warehouses and streamline the layout to manage the storage requirements correctly. Create spaces, select warehouse locations on different levels, and efficiently control the loading and offloading of materials, finished products seamlessly.
Unifying the Dynamics 365 solutions
Dynamics 365 finance and operations
and other Dynamics solutions work in tandem, enabling companies to select the functionality that meets their requirements.
Advantages of Dynamics 365 finance:
Keep a tab on the company's financial health and get correct predictive analysis.
Make an informed decision with in-depth insights drawn from data and augment business growth.
The Dynamics reporting function allows managing the requirements of different legal entities and currencies.
Advantages of D 365 Supply Chain 365 functionality
Use IoT and manage the supply chain process with great ease.
Maximise efficiency in the warehousing and logistics departments and ensure smooth workflows
Efficiently address the customers' evolving requirements and handle the capacity challenges easily with Microsoft d365 finance and operations built-in features. Get real-time alerts on the warehousing and transportation process.
Get an organised and complete view of the supply chain operations and be proactive in achieving maximum efficiency cost-effectively.
Leverage the solution- DYNAMICS 365 FOR FINANCE AND OPERATIONS
If you have been looking for answers to questions such as what D365 finance and operations is or what the benefits of Microsoft Dynamics 365 for finance and operations are, you have got the answer. If you need Dynamics 365 finance and Operations, you can rely on Online24x7, a certified Microsoft partner. You can get reliable services for the same. Get Microsoft Dynamics 365 finance & operations implementation, integration, and Support & Maintenance services. Talk to our expert to know how the solution can completely transform your finance and operations.
Make your business grow
Let's discuss your project and find out what we can do to provide value.