Project-Service-Automation
Project Service Automation
Dynamics 365 for Project Service Automation capabilities in Dynamics 365 (online) provides an end-to-end solution that helps sales and delivery teams engage customers and deliver billable projects on time and within budget.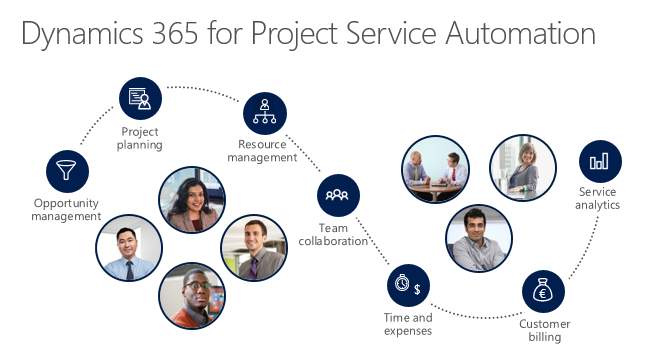 Improve Your Project Service Automation Growth
Repeat customers are a boon for any organization. With AI, the customer service team can take quick decisions by anticipating the problems beforehand. Thus, it can prevent a minor or significant issue from impacting the customers. Data insights help the customer service team to be proactive all the times.
With dynamics 365, evaluation of the contact center health can be done, and agent performance can be improved with AI-driven insights.
There are key performance indicators which are available, and with the help of smart dashboards, the team can learn about the improvement areas by the performance insights available. The wait time is considerably reduced, and thus, customer satisfaction is ensured.
The Dynamics 365 Virtual Agent for Customer Service is coming soon which will bring a paradigm shift an organization offers Customer Services. The customer team can have access to an easy-to-use graphical user interface which does not require any coding. You can empower your customer team with an application that makes optimum utilization of Artificial Intelligence. Moreover, it will improve availability by offering quick and intelligent support that offers fruitful engagement with the customers. The customer service team can use data to provide excellent customer service and make informed decisions. With smart insights, customer service teams are empowered to make virtual agents work efficiently to resolve issues at the earliest.
Businesses can facilitate customer service engagements across multiple channels and offer -both self and assisted channels which also includes field service. Dispatch teams quickly to tend to onsite issues. Ensure high standards of customer service with consistent engagements and personalized customer services.
Make your business grow
Let's discuss your project and find out what we can do to provide value.