Build strong customer relationships with Dynamics 365 Sales.
Dynamics 365 Sales is a highly advanced customer relationship management software that enables the sales team to make informed decisions based on actionable insights derived from the solution. This SaaS application hosted by Microsoft automates sales helps the sales team close more deals...

Insight, guidance, and tools to increase personal engagement with customers
Microsoft Dynamics is an excellent CRM- Customer Relationship Management Software that gives remarkable insights into the sales process and improves sales productivity. This application is user-friendly and works on Cloud, so all the advantages of Cloud Computing are available such as easy access while on the go. The Sales team can never miss the opportunity as customer information can be accessed on mobile devices from anywhere and at any time. Moreover, being a Microsoft Product, Dynamics 365 integrates with the Microsoft Office Suite, and libraries on SharePoint thus possibilities are extended. Emails can be sent easily and quickly, and the email sent and received can be tracked easily. The Sales team does not need waste time scrolling through emails to know about the last point of communication because the communication history can be scanned with great ease. Dynamic sales 365 offers a scalable solution that can be customized and it can be connected to other existing applications and services.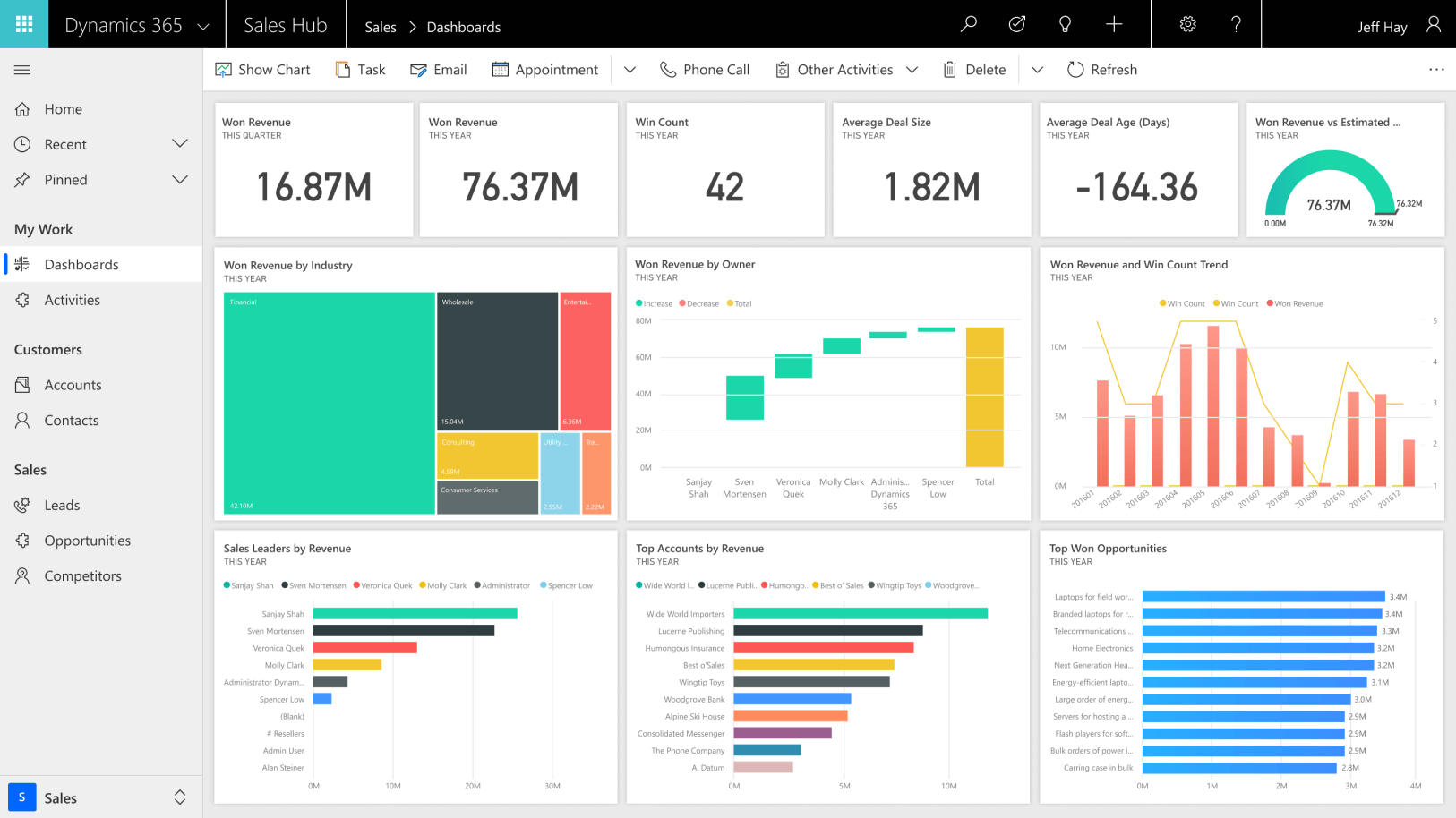 Capabilities:
Dynamics 365 Sales enables businesses to improve sales productivity by keeping the sales behaviour in sync with the best practices. Companies can engage customers better by utilizing customer intelligence and efficient relationship management. Boost sales performance with Dynamics 365 sales implementation services. The solution helps to increase revenue with actionable insights. Companies get visibility into the sales operations and can identify the potential areas to maximize profitability. It acts as a collaborative platform that enables guided selling and yields the best results.
Dynamics 365 sales services
Get Dynamics 365 customization services to utilize the solution optimally with streamlined sales processes. Dynamics 365 support services and upgradation services help businesses stay ahead of the curve with a unified sales experience.

Implementation
Get cost-effective and high-quality Dynamics 365 Implementation services.
Get Started


Support
Manage the Dynamics 365 Lifecycle with Online24x7's Global Support.
Get Started

Customization
Don't compromise on Dynamics 365 Customization Services: Hire only the Experts!
Get Started


Upgrade
Maximize your profitability by upgrading your system with Microsoft Dynamics 365 sales.
Get Started

Dynamics 365 - Customer Engagement
Achieve the goal of Customer Satisfaction
Customer Satisfaction and creating a large customer base is every business' goal. With tools such as Live Sales Dashboards and features such as statistics, graphics let the sales team close a deal successfully. The sales team gets a better understanding of the customers' needs, and they can also anticipate any issue that might crop up in the future. Thus corrective measure can be taken in advance, and a high rate of customer satisfaction can be achieved.
Make Conversation Clear
Conversation with different leads at different point of communications can be tracked easily. The Dynamic 365 tracks every aspect of communication with pre-defined milestones. Salespeople will now not waste time in backtracking leads, and it makes things crystal clear.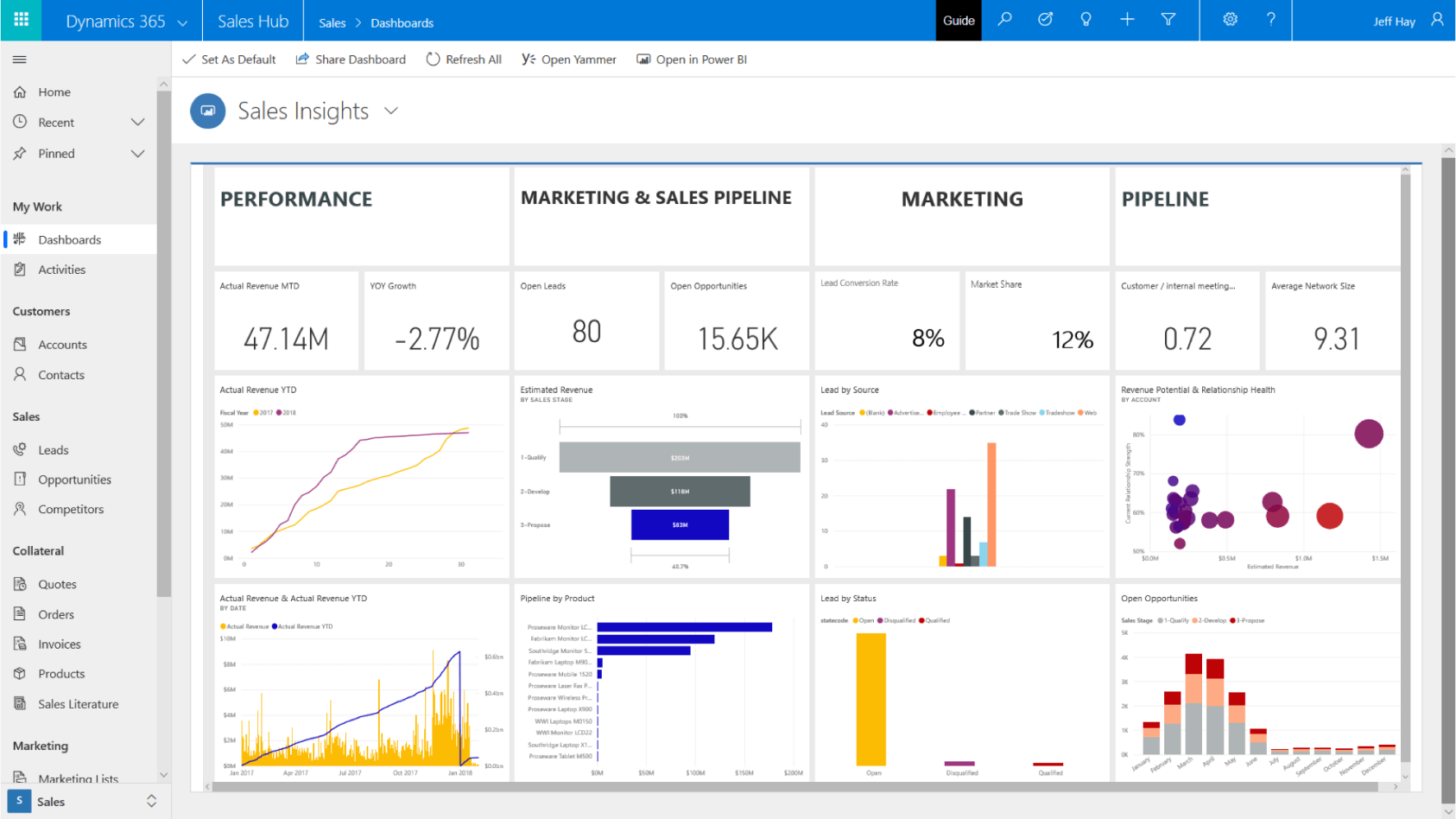 Increase Sales Productivity with Microsoft Dynamics 365
When Microsoft offers a modern sales application, there's no way that you don't want to introduce it in your business. There are several benefits that Microsoft Dynamic 365 Sales offer. In today 's competitive world, the process of sales has become proactive and thus with the aid of modern technology in terms of smart software solutions, sales automation is achieved leading to better results and marked improvement in sales. This application is user-friendly and cloud-based and let you improve your sales growth with Actionable Insights.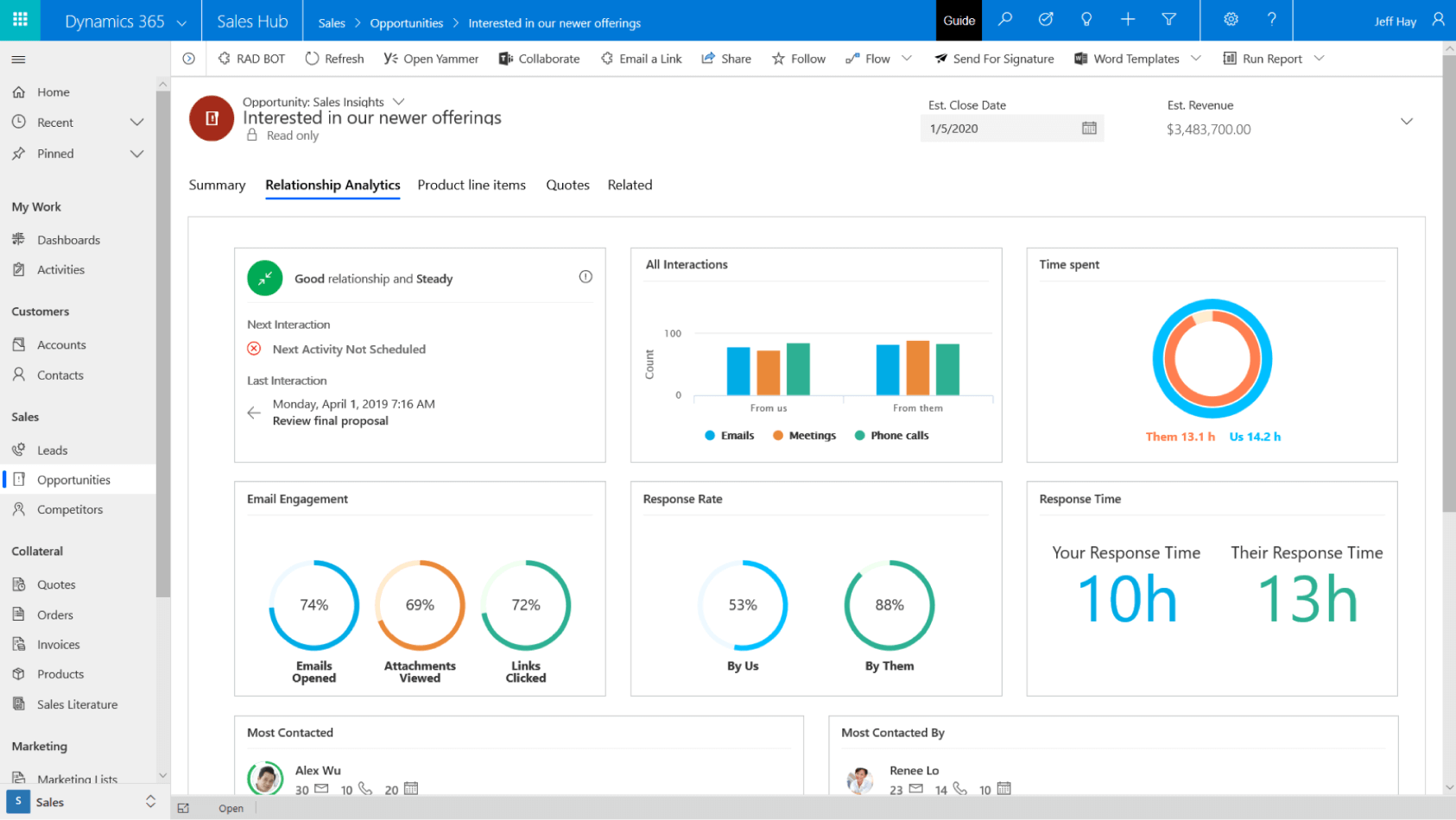 Learn more about Actionable Insights Take action confidently. Derive meaningful intelligence from massive amounts of complex data to provide sellers with contextual actionable insights that are easy to understand. Insights are in context of customer relationship so it's easy to focus on the right priorities and drive personal engagement.
Learn more about Relationship Management
The entire process of sales can be made more profitable with insights that make the sales team make informed decisions. In every sales process, it is essential to building a healthy relationship. The Microsoft Dynamic Sales 365 enables the sales team to maintain a great relationship with the customers. Better connections are the firm foundation of any sales process. Relationship selling can be achieved with unified methods and data with the LinkedIn Sales Navigator and Dynamics 365 for sales. The seller productivity can be increased by supporting the sellers with smart tools. The sellers get embedded insights that help them to take the next step towards strengthening the customer relationship. It also helps the sellers to be highly responsive when customers interact through emails. They can make their communication more effective with customers. There are action cards embedded in the software along with the custom insights of your organizations can yield the best results.
Learn more about Sales Productivity Increase revenue, boost productivity, and reduce costs by automating sales processes through highly-intuitive interface and Microsoft Office-embedded capabilities.
Learn more about Sales Performance
Create a culture that nurtures success. Accelerate sales performance with real-time analytics of historical data and predictive information. Inspire, onboard, coach, and motivate sales team to achieve more.
Every business wants to see a significant improvement in their sales and Microsoft Dynamic 365 Sales give them the opportunity to improve their sales numbers. The sales performance can be viewed with the help of analytics dashboards.
With AI, it is possible to increase the conversion rates by finding the leads and identifying the opportunities. Networking is an essential element in the sales process to get good leads and thus it is crucial for getting opportunities. Get introduced to colleagues who have a good relationship with prospective customers and the communication can further be personalized by the recommended communication points. The results is a higher rate of customer engagement that leads to more conversions.
With AI, the sales process can be given a personalized commitment and enable the team to take quick decisions. Follow-up is essential to keep a track on the relationship between the company and the potential customer . Dynamics 365, Office 365 and LinkedIn shed light on the relationship status so that corrective strategies can be employed to ensure a profitable customer-company relationship. The sales execution process can be automated, and with the help of contextual prompts, the sellers can get useful suggestions about creating new records which eventually increase their efficiency. With AI, the sales team can act judiciously with the help of interactive reports which include Key Performance Indicators for deals. The power of AI gives feedback on the seller engagement and various parameters of productivity which are calculated from the data derived from Dynamics 365 and Office 365 Data. Other AI capabilities include keywords, conversational KPIs which improves the performance of the sales team.
With Dynamics 365 Sales, the data can be imported easily, and the information can be transferred in batches as per your requirement. The sales team can engage in intelligent conversations with the customers. They can send prompts to ask the right questions to prospective leads. The conversion rate is high because the salesperson can follow a smart, logical progression of questions and successfully engage the customer and lead him to the buying stage.
Customer Events can be tracked and managed easily right from the planning stage to the follow -up. Events such as automated follow-up messages, Attendance Count, conversion from live demos presentations, etc., can be tracked. Dynamics 365 automatically scores leads which saves a lot of time and assigned to the right person in the team and lets you know which opportunity can convert into sales.
One of the best things about Dynamic 365 is that it enables it to do competitive research. Businesses do not operate in the market in isolation unless there's a monopoly over the goods and services. So, it's essential that a company should know about its competition. The Dynamic 365 creates a detailed profile of your rivals which lets you see the sale opportunities you and your competitors are working towards. To get a better insight, you can also fill in the data of their strength and weaknesses. This application will enable you to prepare a great proposal so that the project or opportunity your competitor and you are vying for; you stand a better chance to get it.
Make your business grow
Let's discuss your project and find out what we can do to provide value.