Manage the Dynamics 365 Lifecycle with Online24x7's Global Support plans
It's great that you use Dynamics 365 solutions, but you need to know if your Microsoft Dynamics 365 Managed services partner meets your expectations. After using the Microsoft Dynamics suite of applications, you expect to leverage your business and earn more. So, if you're wondering where I can get the Dynamics 365 support plans, then you can trust Online24x7's experts. They are equipped with the requisite expertise to offer proactive guidance that helps you be ahead of the curve. Our team provides Dynamics Support plans for various Microsoft Dynamics products.

Microsoft Dynamics 365 has leveraged the way businesses operate and carry out their different operations. The software solution has streamlined various activities and yielded the best results. It gives users proper control over their companies and gives them a 360-degree view of their different departments. Online24x7 is a certified Microsoft Partner, and its team of professionals provides the necessary Dynamics support plan that helps organizations get the maximum results and a higher ROI. From start to finish, our team offers round-the-clock service for your Dynamics 365 journey. Customization and scalability of a solution are preferred advantages, and our team helps you get the dual benefits of the Microsoft Dynamics 365 Ecosystem. Our Global support engineers have extended support to a large number of clients and provide solutions to even the most complex problems with Microsoft Dynamics 365 support plans.
Working Methodology
Online24x7's working methodology is meticulously planned to yield the desired results. If you are searching for Microsoft experts who can provide the best Microsoft Dynamics 365 support plans, then Online24x7 will meet your requirement. The support plans are carried out in different stages that lay the foundation of a successful Dynamics 365 journey. With Microsoft Dynamics support, you can optimally use the solution and avail of its various benefits.
Knowing your customized demands and coming up with ideas and solutions to meet the specific requirements is the foundation of our Microsoft 365 support plans.
A framework is prepared to implement the activities that need to be undertaken to ensure that your goals and objectives are met with precision.
Our team implements the Microsoft Dynamics support Plans -whether it's Development or giving you customizable solutions.
Dynamics 365 Support Areas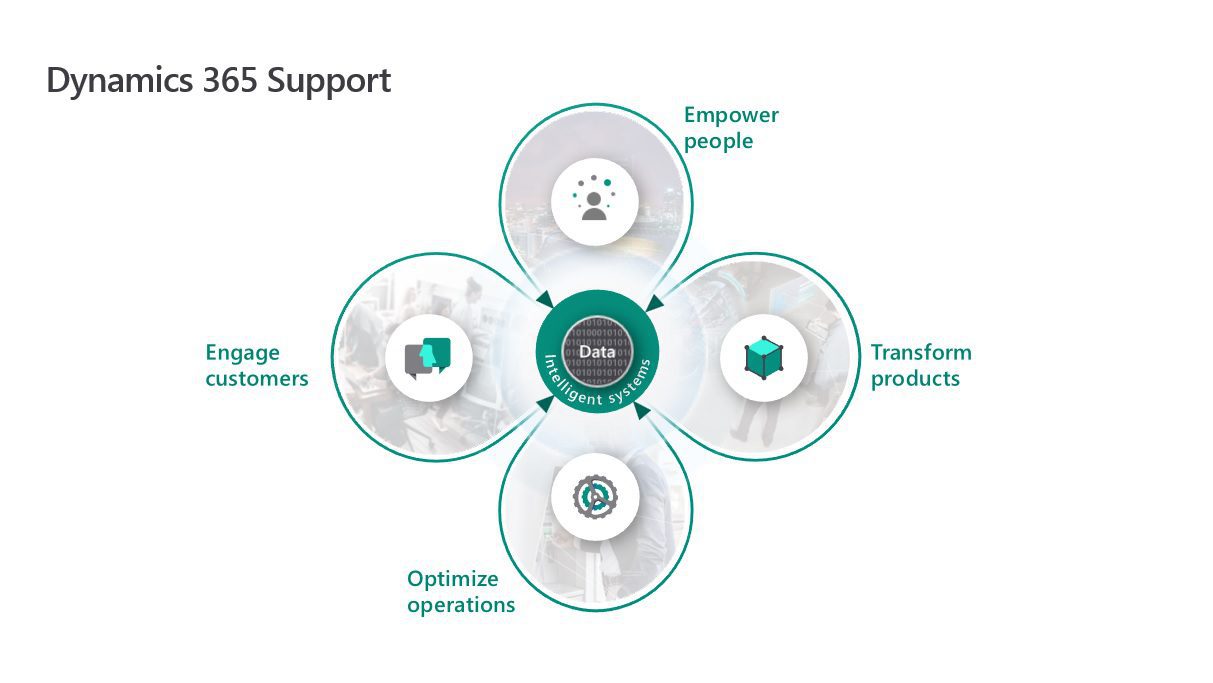 Training: We offer training that is customized according to your needs. Microsoft Dynamics is embedded with extensive capabilities, and the results depend on how well you use them. We offer Online support, Offline support, Remote training, and classroom training so that you can maximize the gains from Microsoft's advanced applications and get the best results.
Development: Our developers with proven work experience are ready to support your development team with the successful Designing and implementation of projects. Their expertise proves to be helpful in a Dynamic market environment flooded with new challenges now and then.
Add-ons support: It is often seen that organizations integrate the Dynamics 365 system with third-party products and need assistance in overcoming the challenges associated with them. Our product engineers are trained to resolve any issues at the earliest and ensure that the work process is smooth and highly functional. With our Microsoft Dynamics 365 support plans, you can get robust support for the Dynamics 365 solution.
Dynamics 365 support plans
Ticketing System: A ticket can be raised for every issue, and the representative employs a proactive approach towards addressing the grievances.
Flexible payment options: If paying upfront is not your preferred option, you can easily opt for flexible payment options for our Dynamics 365 support plans. Pay-As-You-Go Support is highly popular, and we offer the same. You get highly responsive support at no upfront costs and minimal costs to get a smooth Dynamics 365 journey.
Special Subscription plans: Need a dedicated product engineer who helms a close-knit IT team that acts as a single point-of-contact for all of your queries? Well, we provide Microsoft 365 support plans that offer you priority assistance and put you first in the queue. Before a problem escalates, the team will provide solutions to minimize or prevent any negative impact on your Dynamics 365 apps.
Highlights of Dynamics 365 support plans
Attractive Discounts: We offer slashed rates on each Dynamics support plan, making it even more economical for our clients.
Dynamics support plan from a competent team dedicated to working towards Microsoft Products
Support Portal -raise tickets and know about an active issue, and resolve queries easily
Functional Design Development & Customization
ISV Support
Best Practices Guidance
Performance/ Error Troubleshooting
Make your business grow
Let's discuss your project and find out what we can do to provide value.